THE CULINARY COTTAGE CHEF'S THEATRE
Hosted by Chef Theatre Director, Penny Lewis in the Owners and Trainers Club.
SATURDAY SEPTEMBER 1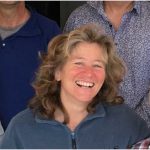 11am  Rachael Watson opened the Abergavenny Baker School of Artisan Breads in 2015 and won Cookery School of the Year in the Food Awards Wales 2018. Her love of travel and food culture is reflected by the breads she bakes from a simple Swansea Loaf to exotically spiced Greek Tsoureki and delicately flavoured Ukrainian Easter Bread. She will share her delightfully simple and delicious recipe for Parmesan and Herb Nibbles. Enriched with eggs, butter and cheese, this is the perfect dough for children to experiment with. It needs only one rise and just a few minutes in hot oven to produce beautiful, crispy, golden morsels of cheesy bread. Irresistable with baked Camembert and a glass of wine. Rachael continues to work in local surgeries as a GP.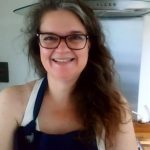 12.30pm Anna Coipell created the CaribSwede Vegan Bakery Company following the birth of her son. As a Swede living in the UK, Anna realised how important it was to give him the flavours of Sweden. Her childhood was focused around cooking and baking since her Grandfather was a known confectioner and baker in the South of Sweden. As as a Carib (Oliver) the flavours and spices of the Caribbean were an important fusion to add for the creation and description of her family and later as a business and bakery.The aim is to give you the experience of the world of Swedish bakes and biscuits with influence of the Caribbean flavours.
2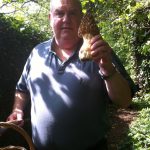 pm  HENRY ASHBY & ADELE NOZDAR
Henry Ashby is the self-proclaimed grandfather of the Foragers. The former Submariner started foraging aged eight in the Yorkshire Dales. He moved to the Isles of Scilly two years later and began learning about coastal plants and herbs. Now with over 50 years of foraging experience he supplys Michelin- starred chef Chris Harrod at The Whitebrook with herbs, fungi and all wild locally-sourced food. Henry served in the Royal Navy for 24 years and 21 as a communications expert in submarines.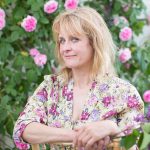 Adele Nozedar is an author, a food writer and a forager. She founded Brecon Beacons Foraging and has written books including 'The Hedgerow Handbook' and 'The Garden Forager'. She can teach you how to identify a variety of delicious wild and cultivated plants and also how to use them in food, drinks and treats.
SUNDAY SEPTEMBER 2ND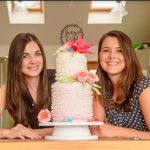 11am The Wye Valley Cakery- Rebecca Webb and Larissa Lingham specialize in bespoke design-led wedding cakes. New to the industry, Wye Valley Cakery has enjoyed great success and growth in the last two years. Cake designer Rebecca enjoyed making sweet treats for family and friends but started making celebration cakes when her daughter was small. It was then that family and friends started to ask Rebecca to make their wedding cakes. Larissa has always enjoyed baking for her family and is keen to use locally-sourced produce. After working in a café in a café for three years, the friends decided to embark on their new venture and were awarded a merit in the 'Cake International' competition. They now supply some of the biggest wedding venues in the Wye Valley.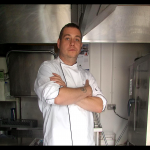 1pm CLAYTON STEPHENS  Sous Chef at the The Golden Lion in Magor,  found his passion for food as a youngster travelling the world with his mother, helping wash dishes in restaurants and cafes that his mum worked in. He started chefing in 1996 and has worked at The Parkway Hotel, Cwmbran and the Celtic Manor Resort in Newport. He was trained by Trevor Jones, Mike Bates, Karl Hammet, Simon Newcombe who were all Welsh Chefs of the Year. He has cooked for the likes of singing sensation Beyonce, Bruce Springsteen, Barack Obama and actor Michael Douglas.